COME AND ENJOY COMPLIMENTARY TOURS AND CULTURAL PROGRAMS!
This year, we are going the extra mile to make sure you experience the best of Japan BEFORE, DURING and AFTER the Congress.
You are up for several treats and a special welcome from the Tokyo Metropolitan Government. The Tokyo Metropolitan Government offers several complimentary programs specially tailored to provide to all AIJA Congress participants with various experiences of Tokyo and its vicinity: from nature, to high tech, to culture and other outstanding attractions.
Special Welcome and Touristic Desk at the Congress Hotel venue.
There will be a City information and registration desk for tours and cultural programs at the Hilton Tokyo open during the whole Congress and able to answer to all your questions about Tokyo and Japan. Come and meet with Japanese Tourist specialists to book tours, activities or simply get to know more about Japanese culture and Tokyo major sights or unknown treasures.
Guided Tours: Complimentary tours of Tokyo offered to AIJA Congress Participants
The Tokyo Metropolitan Government has put together tours which will be of interest to AIJA Congress participants, as it will show major historical parts of Tokyo as well as hightech and futuristic sights. Air conditioned buses with English speaking guides will leave from the Hilton and each tour will last about 3.5 – 4 hours. Tours will take place on Friday 1 September and Saturday 2 September. Registration and more information will be available Already curious and excited? See below some of the key sights that will be visited during those guided tours:
 
Tour Highlights
Friday 1 September - 13.30-17.00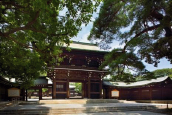 The Meiji Jingu Shrine & Shopping
The Meiji Jingu Shrine is a Shinto shrine, dedicated to Emperor Meiji and his wife Empress Shoken, was established in 1920. Over 100,000 trees were donated by people all over Japan at the time of the shrine's establishment, creating the expanse of forest and garden that can be seen today. On the first few days of every New Year more than three million people visit Meiji Jingu, making it the most-visited shrine in Japan. Meiji Jingu Shrine is also the place where Japanese people honor life events, such as births, weddings and New Year's celebrations
TEPIA Advanced Technology Gallery & OMOTESANDO Hills
TEPIA Advanced Technology Gallery introduces a variety of technology contributing to the society and enriching our life. You can experience the advanced technology of the future while passing through the exhibitions. Generally the exhibition is composed of four zones: 'Technology pathway' - introduces a technology of biomimetics that imitates excellent functions and structure of living beings; 'Technology showcase' - introduces technologies to overcome 3 main constraints of: time and space, body and nature; 'Technology studio' - a corner to experience how the current advanced technologies appear in our future "life" and "society" as products and services; 'Technology lab' – introduces experiential exhibits for understanding robot technology and a video library corner of high-tech images.
Saturday 2 September - 13.30-17.00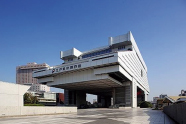 Edo-Tokyo Museum
Edo-Tokyo Museum introduces the history and culture of Edo (the ancient name for Tokyo). It also fascinates visitors with stories of the city's captivation past. You can take a look at a traditional playhouse (theatre), and scenes from everyday life that will transport you back in time to the Edo-period (1603-1868). This museum presents visitors with a unique opportunity to compare and contrast old Edo with modern Tokyo, so you can appreciate how Tokyo has transformed over the years.
ASAKUSA Temple - The most famous temple in Japan
Asakusa Temple is truly a historical haven in modern Tokyo, a gem of the old Edo (1603-1868). It is capital's most famous and oldest Buddhist temple founded in 628. The famed entrance gate Kaminari-mon (Thunder Gate) with huge red lantern is a symbol of Asakusa. 200m-long street of traditional stalls which leads from the Kaminari-mon to the temple, is always relished by the visitors.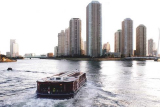 River Cruise & Hama-rikyu Gardens
Half-hour boat cruise down the Sumida River travels under some 14 bridges spanning Tokyo's main river, showing the capital's famous landmarks along the way. The cruise arrives at its destination, the majestic Hama-rikyu Gardens along the Tokyo Waterfront in Shiodome, where the participants can walk around a beautifully preserved garden that the family of the ruling Tokugawa Shogun owned from 17th to mid-19th century and used to hunt with falcons.
 
Cultural Experience program
Friday 1 September
The Meiji Jingu Shrine & Shopping
Complimentary Japanese cultural programs conducted in English provide an opportunity to experience Japanese traditions on Fri, 1 Sep. All programs will be organized at the congress venue.Reservation can be made at the "Tokyo City Information" desk from Tue, 29 Aug on a first-come, first-served basis.
I - Dress in Kimono
II - Japanese Tea Ceremony
Timetable 13:00-14:00 | 14:30-15:30 | 16:00-17:00
 
1.Half-day City Tour and Cultural Experience Programs
 
 
13:00/13:30-17:00
Evening
Fri, 1 Sep
Half-day Tours
Meiji Jingu Shrine & shopping (40)
Taiko performance at the opening of banquet in Happoen
TEPIA Advanced Technology Gallery & Omotesando (30)
Cultural program (at the venue)
*Dress in Kimono (10*3times)
*Japanese Tea Ceremony (10*3times)
Sat, 2 Sep
Half-day Tours
Edo-Tokyo Museum & Asakusa (40)
-
River Cruise & Hama-rikyu Gardens (40)
Please note: All tours are subject to change with or without notice.
*Timetable of cultural program: 13:00-14:00, 14:30-15:30, 16:00-17:00
2. Welcome desks at the meeting venue
Tokyo city information desk: onsite registration of city tours and cultural programs.
Dates
Open Hours
Location of the desk and desk name
Tue, Aug 29
Wed, Aug 30
8:00-17:00
Location: Registration area at Hilton Tokyo
Name of the desk: Tokyo City Information
Thu, Aug 31
8:00-12:00
Fri, Sep1
Sat, Sep 2
8:00-17:00